Aviation Fuelling Equipment - Products: HIFR & Helicopter Refuelling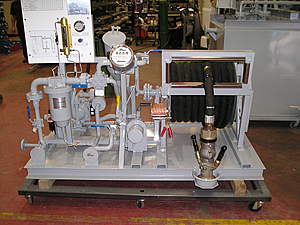 At the heart of a Helicopter In Flight Refuelling (HIFR) system is the skid mounted pump filtration module and fuel dispenser (pictured right). Fluid Transfer have designed and developed a range of such refuelling equipment modules to satisfy the limited space constraints of OPV/Corvette/Frigate sized vessels at flow rates up to 680 litres per minute and can count the Royal Navy, the Royal Navy of Oman and the Royal Thai Navy amongst others for such equipment. For more information on our considerable naval experience, please click here...

HIFR Assembly

Fluid Transfer International has recently developed a 2" full bore HIFR assembly that is compliant with STANAG 3847 suitable for ship to helicopter refuelling.
The system is manufactured in our facility in Nailsworth, Gloucestershire, offering an emergency airborne refuelling capacity that is simple to use and maintain. The system is fully electrically conductive.
Components
Hose End Pressure Controller with cap fitted with a 45 Psi pressure regulator
3 meter length of non collapsible hose

Upper elbow manufactured in Aluminium fitted with a STANAG 3847 lifting eye
Break away Coupling with a breaking point of between 180 and 270 kgs
Non return valve

30 meter length of semi-lay flat rubber hose

Lower elbow manufactured in Aluminium Fitted with a deck tie-down point
ISO 45 dry break deck connections and cap
In the event of the HIFR having to comply with the Germanischer Lloyd's requirement a second dry break coupling is fitted at the lower end of the 100 ft hose.
Fluid Transfer can also supply, repair and overhaul HIFR equipment of third party manufacturers.
Fluid Transfer International
Nailsworth Mills Estate
Avening Road
Nailsworth
Gloucestershire
GL6 0BS

Company Number 3658293
Registered in England

Tel: + 44 (0) 1453 833 381 - Fax: + 44(0) 1453 833 529


Sales & Enquiries: sales@fluid-transfer.co.uk
Product Support Team: support@fluid-transfer.co.uk

Subscribe to our Mailing List: