Aviation Fuelling Equipment - Products: Naval Capability
Fluid transfer International have been manufacturing a range of aircraft refuellers and allied equipment for the military and civil markets in excess of 40 years, this experience is now being used to offer innovative refuelling systems to the Naval market.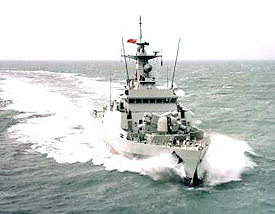 The supply of clean fuel to the aircraft is essential to the operation of the aircraft and vessel to allow continued operability. The company has now developed the systems for marine use and is now able to offer an innovative solution to Naval and civil marine, Helicopter and Aircraft refuelling.
Using experience gained from the design and build of refuelling systems for fitting to vehicles that have considerable size and weight constraints, Fluid Transfer International can supply compact efficient modules to fit within the size limitations of vessels.
Fluid Transfer International use Lloyds and NATO approved equipment, together with the in-house manufactured equipment that have been used extensively on Helicopter refuelling systems supplied to various naval contractors and navies around the world.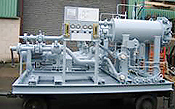 As well as supplying refuelling/defueling equipment, FTi is able to undertake repair and overhaul work on HIFR equipment regardless of other manufacturers and to underoin this capability, FTi secured an agreement with the Royal Navy to undertake maintenance, repair and supply of parts for HIFR Helicopter In-Flight Refuelling equipment.
Our significant stock holding of aviation fuelling equipment spares is backed by a product specialist team who will source any manufacturers' equipment spares, no matter how old.
Aviation Fuelling Systems for Future Aircraft Carriers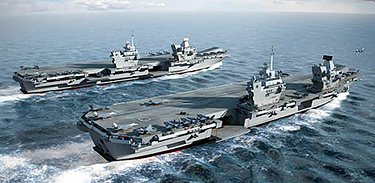 As an example of the confidence placed in FTi's capabilities, the company was awarded a ~£4.5M contract in late 2007 for the design, development and manufacture of two ship sets of modules and associated tanks for installation on to the new Queen Elizabeth Class Carriers pictured above:

Each ship set, comprising twenty five modules and two tanks, deployed around the flight deck and hanger deck, provides the capability to either boost the supply of fuel and dispense to individual helicopters or to pressure defuel. (Primary Fuel/Defuel Module pictured right and defuel module below right)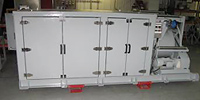 Each module is a self-contained unit including operator control panels, motor/pump digital controller, flow meter, powered hose deployment/retract, fuel filter and electronic interfaces to the Ship's Integrated Platform Management System.
All modules and associated equipment have been designed to meet the stringent Marine operating environmental requirements, including the selection of materials from the Lloyds Register Rules and Regulations for the Classification of Naval Ships.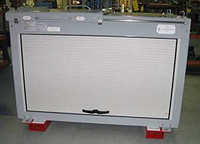 Working closely with the Aircraft Carrier Alliance, Fluid Transfer International has drawn on its extensive experience in the supply of design and in-service support documentation through tailored implementation of technical and project governance practices to ensure the key performance parameters, physical constraints, cost constraints and delivery milestones are met. Where practical, extensive application of Commercial-Off-The-Shelf (COTS) equipment has been adopted (secondary fuel/defuel module pictured below)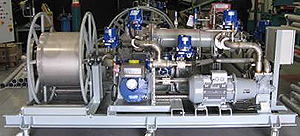 Fluid Transfer International
Nailsworth Mills Estate
Avening Road
Nailsworth
Gloucestershire
GL6 0BS

Company Number 3658293
Registered in England

Tel: + 44 (0) 1453 833 381 - Fax: + 44(0) 1453 833 529


Sales & Enquiries: sales@fluid-transfer.co.uk
Product Support Team: support@fluid-transfer.co.uk

Subscribe to our Mailing List: