Aviation Fuelling Equipment - Products: Man Portable Systems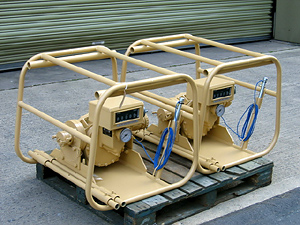 A light weight man portable system for emergency fuel supply in the field, rapidly connected with layflat hoses coupled with Victaulic couplings. The system can be tailored to the operators needs consisting of pumps, filter water separators, bulk meters, distribution manifold, hoses and selection of over wing and under wing refuelling nozzles and adaptors. The units can be supplied in a 20 foot standard ISO container.
This specification briefly defines the main attributes of our Portable Aircraft/Helicopter Fuelling Pumpset. The unit, subject to optional hose equipment, is suitable for overwing/underwing refuelling of small fixed and rotary wing aircraft at flow rates of up to 225 Litres/Minute. Fuel can be drawn from either flexible tanks or drum stock.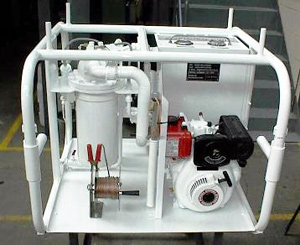 The pumpset is designed to be compact and portable by two men. The unit is engine driven and incorporates a self-priming pump; filter water separator, bulkmeter and quick disconnect couplings for the attachment of suction and delivery hoses.
Follow the product link below for more information and to Download the Data Sheet...
Fluid Transfer International
Nailsworth Mills Estate
Avening Road
Nailsworth
Gloucestershire
GL6 0BS

Company Number 3658293
Registered in England

Tel: + 44 (0) 1453 833 381 - Fax: + 44(0) 1453 833 529


Sales & Enquiries: sales@fluid-transfer.co.uk
Product Support Team: support@fluid-transfer.co.uk

Subscribe to our Mailing List: