Aviation Fuelling Equipment - Products: Air Landed Aircraft Refuelling Point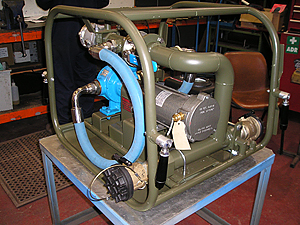 The ALARP is used in advanced areas of conflict when it is necessary to refuel helicopters and operational vehicles from the aircrafts own fuel tanks. A compact man portable system, consisting of ridged suction hose and layflat distribution hoses coupled together with quick release dry break couplings. The system includes a distribution manifold that has an integral pump powered by the 28 volt aircraft electrical supply used to strip the lines ensuring that no fuel is spilt during disassembly of the hoses.
All hoses and loose items are supplied in fuel proof bags to enable them to be distributed within the aircraft ready for use.
Fluid Transfer International
Nailsworth Mills Estate
Avening Road
Nailsworth
Gloucestershire
GL6 0BS

Company Number 3658293
Registered in England

Tel: + 44 (0) 1453 833 381 - Fax: + 44(0) 1453 833 529


Sales & Enquiries: sales@fluid-transfer.co.uk
Product Support Team: support@fluid-transfer.co.uk

Subscribe to our Mailing List: